Multi-specialty teams save the Chinese girl's life with complex kidney cancer
In January 2019, a family with their four-year-old daughter travelled from China to Great Ormond Street Hospital for Children (GOSH) in London to seek expert treatment for their daughter's relapsed Nephroblastoma.
Nephroblastoma/Wilms' tumour
Nephroblastoma is a type of kidney cancer that mainly affects children. Around 80 children are diagnosed with a Nephroblastoma each year in the UK. They are most common in children under 5. Rarely they develop in older children and adults.
Nephroblastoma usually only affect one kidney (unilateral) but in about 10 out of every 100 children (10%) it can affect both (bilateral). In 1899, Dr Max Wilms, a German pathologist and surgeon, wrote the first medical paper about this condition. This is how it got its another name – Wilm's Tumour.
Never Give up
The girl was diagnosed with Wilms' tumour in China when she was three-year-old. "At the beginning, we realised that she felt discomfort and nausea, lost her appetite and then started abdominal pain and vomiting… when we heard about the diagnosis, we were so sad and stressful." The girl's father recalled. After the diagnosis, the local doctors in China decided to perform the surgery to remove the tumour and affected kidney at once.  
However, just 6 months after the surgery the tumour relapsed, and the condition became more complex and aggressive. The girl's father added: "after the replase, we were told that the survival rate for my daughter would be very low and there are no better treatment options locally. But as the parents, we could not give up. Therefore, we started to find treatment options for my daughter abroad."
"The reason why we chose Great Ormond Street Hospital because of its worldwide reputation specialised in children's healthcare.  The whole referral process was much more efficient than I expected, and we were very happy with the treatment plan, so we decided to refer our child to GOSH as soon as possible".
Talking about the treatment process for the girl, Dr Giuseppe Barone, the paediatric oncologist at GOSH, explains: "the patient was treated for a local relapse of her Wilms tumour. As part of the treatment strategy, she received standard chemotherapy followed by radical surgery, radiotherapy and high dose chemotherapy with stem cell rescue.
Since the patient's tumour was close to the diaphragm, the surgery was very complex. This is done by Professor Imran Mushtaq, the expert paediatric urology surgeon at GOSH together with the liver surgeons at King's College Hospital (KCH). Surgery was a success and was not complicated by major events.
Moreover, a high-dose chemotherapy was highly specialised and managed extremely well by the team as there are many challenges that are associated with this aspect of the treatment. The doctor collected the girl's peripheral blood stem cells in order to reinfuse them to rescue her after high dose chemotherapy to reduce the toxicity of this treatment.
The multidisciplinary approach
This multidisciplinary approach is unique at GOSH. Mainly a multidisciplinary and highly specialised approach by several professionals with access to ancillary services such as Liver team at KCH and Radiotherapy at UCLH and Royal Marsden Hospital that makes this patient's treatment completed successfully from start to end.
The girl's father shared: "The experience at GOSH is quite different compared with China. For the treatment, instead of the immediate surgery, the doctors here advise to treat the tumour first with chemotherapy and then wait for the best timing to remove the tumour by the surgery. Moreover, GOSH has very expert anaesthesia and pain management team, who helped my daughter a lot not suffer from massive pain. We are lucky that we are very beneficial from the multi-speciality approach at GOSH and the whole process is smooth.".
The father also added: "the doctors and nurses at GOSH are very patient and friendly. Play specialist and playrooms here make my daughter less scared to go to the hospital which made us feel more released as well".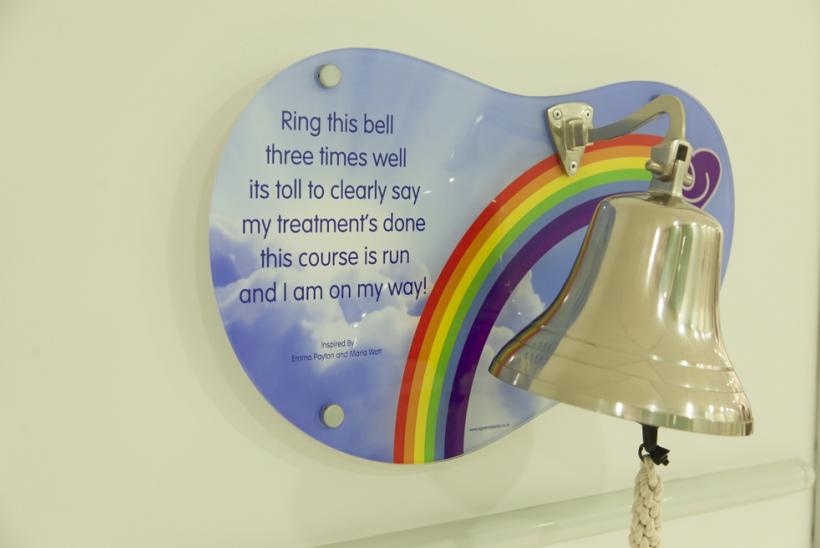 Oncology treatment at GOSH
The Haematology and Oncology department at Great Ormond Street Hospital operates as a unified cancer centre with University College Hospital London - forming the largest oncology centre in Europe. It is uniquely set up to treat the rarest and most complex forms of paediatric cancer and our overall haematology and oncology survival rates are comparable to the best results internationally.

The Oncology service treats patients with solid tumour cancers. We provide tertiary cancer care along the disease pathway and serve as the principal treatment centre for children diagnosed with a number of different malignant and non-malignant oncological diagnoses.

At GOSH we provide specialised services all under one roof for our international patients. The children and families are cared for by specialist nurses and doctors who are trained in cancer treatment and are able to provide help and advice to the families at all time and our main aim is to try and allow the families to have as much a normal life as possible.