Facilities for Young People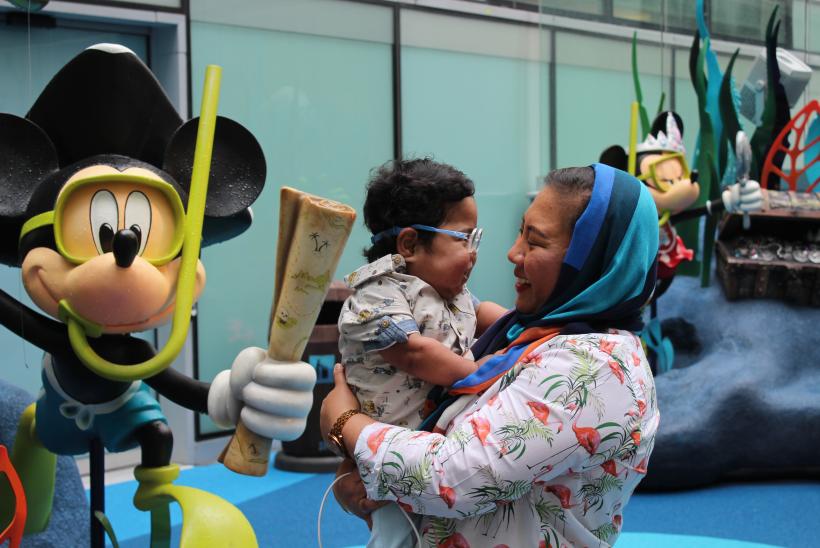 Great Ormond Street Hospital (GOSH) is dedicated to putting the Child First and Always. There are plenty of things for patients and siblings to enjoy at the hospital. We've listed a few below:
Please be aware that some of these facilities may currently be closed for your safety. Find out more on our handy COVID-19 hub. 
The Activity Centre is for inpatients, outpatients and siblings (up to 19 years old) and open daily (but closed at lunchtimes).
It is full of resources including art activities, toys, games and consoles with trained staff available to help your child take part in fun activities and learn new things.
It is an educational and recreational facility that parents can drop into with their children at any time.
The Activity Centre can be found on Level Two of the Southwood Building.
An arts, crafts and fames club that runs every day in the The Lagoon from 12 noon to 2.30pm. There are fun themes every session, mostly for younger children.
Radio Lollipop is our play-based interactive radio service, available on Monday and Wednesday evenings from 6.15-8.15pm and on a Sunday afternoon from 4-6pm.
You can find it on channel 9 on the ward bedside entertainment system. You can call the studio on extension 6784 to make requests and take part in competitions.
During non-broadcast times a 24-hour radio service is also available.
Every Saturday from 1-5pm volunteers run the Saturday Club in the Activity Centre. The club offers fun and interactive sessions involving arts, crafts, games and sports for patients and siblings. Saturday Club is suitable for all ages, with an 'over 10' space for young people to relax.
Throughout the year GOSH puts on a wide range of events for children and their families to enjoy. Look out for posters advertising events on your ward and in central areas at the hospital such as The Lagoon or reception.
A few events we celebrate at the hospital:
Spring party

Eid al Fitr gift giving and party

Summer party

Halloween party

Christmas gift giving and party
Disney Reef
The Disney Reef is an outdoor play area next to The Lagoon. It brings together special lights and sensory elements, as well as Disney favourites Mickey Mouse and Goofy, Ariel from The Little Mermaid and Hank from Finding Dory - all sculptured specifically for the Reef.
Find it on Level 2 of the Morgan Stanley Clinical Building.
Morgan Stanley Garden
In 2016, a very special garden was opened at GOSH. The Morgan Stanley Garden provides a quiet, reflective space for families and patients away from the wards and the bustle of our central London location.
The garden can be accessed through Medical Illustrations on Level 2 of the Southwood Building, by the school. The garden is overlooked by Hedgehog Ward.
Coram's Fields
Less than a five-minute walk from the Octav Botnar Wing is Coram's Fields, a large public play area for children under 16 years old. Adults can only enter the area when accompanied by a child. It is open every day from 9am until dusk.
Coram's Fields has lots of play equipment, farm animals, and activities during school holidays. Please check with a member of child's medical team whether it is advisable for your child to visit the areas with livestock.
Lullaby Factory
The Lullaby Factory is a small outside area by The Lagoon that provides a seating area and large xylophone for musical fun.
Find it on Level 2, The Lagoon, Morgan Stanley Clinical Building.
Every ward and outpatient department at GOSH has a playroom for patients to enjoy. The playrooms are stocked with books, toys and games for patients of all ages to enjoy.