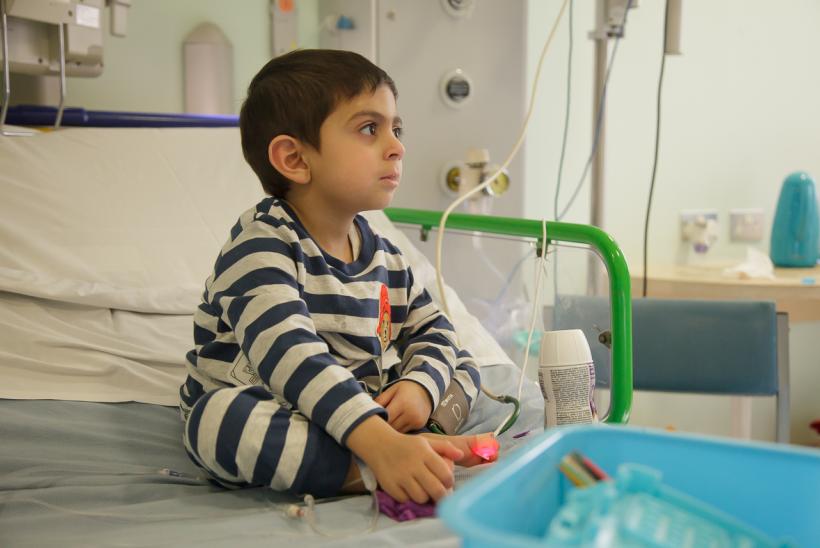 Bumblebee Ward is a mixed speciality ward, located on Level 5 of the Octav Botnar Wing in Great Ormond Street Hospital.
Children between 0-16 years are cared for on Bumblebee Ward, in 21 single en-suite patient rooms with beds for a parent. An Arabic interpreting and translation service is available on the ward, to make your stay with us more comfortable.
Bumblebee Ward is open 24 hours a day, seven days a week.
Visiting
We ask all friends and family, apart from the child's nominated carer, to visit only during the ward's specified visiting hours, and to leave the hospital by 10pm.
All visitors must clean their hands before entering and leaving the ward, and wash their hands on entering a cubicle. If any family member or visitor develops a cough, cold, diarrhoea, vomiting or rash, it is very important that you inform the nurse in charge before coming to visit.
If your child has either had recent contact with chickenpox or measles, or has chickenpox, measles, shingles, diarrhoea or vomiting, then please contact a member of the nursing team before arriving.
Staff
Matron: Claudia Tomlin
Ward manager: Tom Kennedy +44 (0)207 405 9200 ext 8687
Bumblebee Ward is managed by our highly qualified nursing team, as well as consultants, doctors, clinical nurse specialists, physiotherapists, healthcare assistants, speech therapists, dietitians, play specialists, psychologists and hospitality assistants.
Your child will be allocated a qualified nurse on every shift, but as GOSH is a teaching hospital, your child's care may also be supported by a trainee nursing associate or a healthcare assistant. 
Your child's consultant, supported by a team of specialist doctors, has overall responsibility for their treatment and care. They will review your child regularly and be available to answer your questions.
We also have our own consultant-led ward-based team of doctors who see patients on a daily basis and act as a link between the child's consultant, nurses and you. They will also be able to answer many of your questions. 
You are a valued member of your child's healthcare team and we encourage you to take part in their care as much as possible. Your nurse will discuss this with you daily. 
Arabic interpreters on Bumblebee Ward provide an interpretation and translation service for families and patients during the following times:
7.30am-8.00pm Monday-Friday
7.30am-7pm Saturday
8.30am-4.30pm Sunday (and bank holidays)
Facilities
All inpatient rooms have en-suite bathrooms equipped with a shower. There are also several larger bathrooms on the ward, including at least one with disabled access and hoists. 
Storage space, including a lockable safe, is provided in the room. We encourage parents and carers to take time out in the dedicated lounge, which has a kitchen attached. For more information about catering, see our Food page. 
The parent's lounge has a television with a range of channels in a variety of languages, as well as reading material, including daily English and Arabic newspapers. The whole ward is Wi-Fi enabled. Laundry facilities are provided free of charge and can be found on Butterfly Ward.